Alumni
Contact Us
Our goal is to keep you connected to the college and fellow alumni. We are a source of support for your future educational, career and personal goals. We love to hear from our alumni! Contact us with any questions you may have or just let us know what you are up to.

Reynolds Alumni Relations is a division of Reynolds' Office of Institutional Advancement. We work closely with the Communications and Marketing offices, and the J. Sargeant Reynolds Community College Educational Foundation, to keep our awesome alumni connected and informed about their alma mater.


| | |
| --- | --- |
| | A discount at the bookstore are just a few of the perks for Reynolds alumni. Stay in touch with Reynolds Alumni Relations team members Ariel Cole (left) at acole@reynolds.edu and Marianne McGhee at mmcghee@reynolds.edu |
Reynolds Alumni Relations
Workforce Development & Conference Center
Suite 200
PO Box 26924
Richmond, VA 23261
(804)523-5181
alumninews@reynolds.edu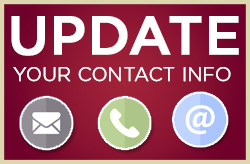 Learn about the latest Reynolds news as well as Alumni programs and benefits by following us on LinkedIn, Facebook and Twitter.
---
Upcoming Events
2017-2018 FAFSA Workshops
June 2017 - August 2017
Various Locations.

Interested in coming back to take a class? Know someone else who is but needs financial assistance? The Reynolds Financial Aid Office will be hosting several FAFSA Workshops this summer. Call 855-874-6682 for more info.
Kimberly Henley Miller: 4 Seasons
May 23, 2017 through August 3, 2017
PRC, The Conference Center Gallery

Come view the Kimberly Miller Art Show, 4 Seasons, at the new Conference Center Gallery. For more information or to schedule a visit, contact Karen Steele at ksteele@reynolds.edu.