Honors at Reynolds
News & Events
Volunteering in Honors - Goochland Cares Food Pantry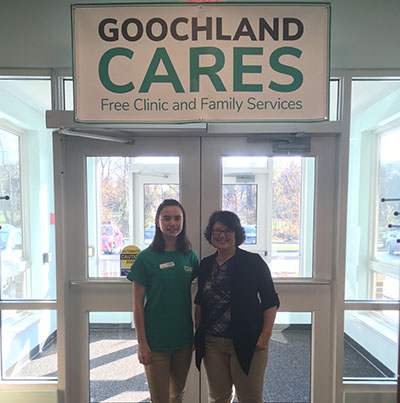 "Volunteering at the Goochland Cares Food Pantry has been an amazing experience. The food pantry makes a difference in over 300 families lives each week (goochlandcares.org), and perhaps my favorite part of volunteering is seeing a client leave with upwards of two large brown paper bags full of food. The food pantry receives donations daily from the people of the community and stores like Food Lion and Kroger. With the support of all the donations received the food pantry is able to offer a wide selection of food to the people in need in the county of Goochland."
As one of the four components of the Reynolds Honors Program; Student Engagement helps to foster a sense of community. Sarah Brown is a current student utilizing an Honors contract in Dr. Sowulewski's Personal Wellness course (HLT 116) this semester. Research shows that people who give time, money, and support to others are likely to be more satisfied with their lives and less depressed (Farino, L (n.d.); MSN Health & Fitness. Further, volunteers are said to often experience a "helper's high," similar to a "runner's high" (Luks, 1988). Sarah's fellow students and Dr. Sowulewski look forward to her final report at the end of the semester.
---
VCU LaunchPAD Fall 2018
On Saturday, November 3, the Reynolds Honors Program welcomed the VCU's School of Education LaunchPAD organization for a half-day workshop tailored for students who plan to transfer to a four-year institution. The workshop leaders gave tips and strategies for successfully navigating the college transfer application process, finding scholarship funding, and writing compelling personal essays. Since many transfer institutions across Virginia use the Common App, many students will need to craft a narrative essay as part of the application. Some tips for this essay included: being narrow and focused in your narrative, being descriptive, and avoiding clichés. Another presenter highlighted financial aid options that Reynolds students should know about, including the VCCS Transfer Grants (http://www.schev.edu/index/tuition-aid/financialaid/state-student-aid/two-year-college-transfer-grant-program) and the wide variety of scholarships available through the College Board website (https://bigfuture.collegeboard.org/scholarship-search). Many university websites will have a page dedicated to scholarships and how to apply for them, so be sure to check in with target transfer institutions, and don't forget to contact the financial aid office, too.
The last presentation on time management covered strategies for keeping an agenda and calendars updated, being aware of important application deadlines, and knowing how to balance time being spent on specific activities. The day concluded with a one-on-one session of LaunchPAD members critiquing personal essays or other writings brought by Reynolds Honors Program students and providing constructive feedback to lead to strong pieces of writing. The VCU LaunchPAD members are planning to Reynolds this spring to do a narrative writing workshop and critique during a Wednesday Honors Community Hour—so stay tuned!
---
VCHC Conference Fall 2018
Every year the Virginias Collegiate Honors Council (VCHC) holds two conferences, one per academic semester. The fall meeting focuses on planning the spring conference and addresses any council business, while the spring meeting serves as an opportunity for Honors Program students from two-year and four-year colleges in Virginia and West Virginia to present original research.
This past September, Honors Program assistant coordinator, Dr. Stephen Sowulewski, and Honors Program student Grace Swal, attended the conference held at Virginia Commonwealth University. It was a full day of workshops and sessions for both Reynolds representatives, ending with the VCHC 2018-2019 Executive Committee (EC) meeting. At this EC meeting, a vacancy for a Community College Student Representative was announced, and quickly filled by our very own Grace Swal. Grace did not just get the position by default, but competed for it against two students from colleges in Northern Virginia. After a quick 2-3 minute impromptu presentation by the candidates about why they should be appointed to this post, the audience did an electronic poll, and Grace was victorious!
Other activities included a panel discussion regarding the role and value of an effective advisory board for a given institution's Honors Program. The consensus was that board members would want to be actively involved in the Honors Program, and not simply act as silent benefactors. For example, members at large want to mentor honors students, and help them in the job market with possible community contacts. The spring VCHC meeting will be held at James Madison University on April 5-6, 2019. The proposal deadline for student presentations is March 1 and we hope to have Reynolds students participate in this event.
---
Honors Graduating Class of 2018!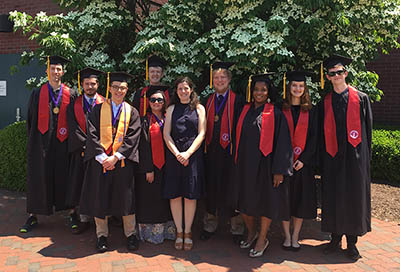 13 May 2018—The 45th Commencement ceremony of the Reynolds Community College took place this Sunday at the Virginia Commonwealth University Siegel Center. The graduation ceremony began at 2:00 PM and the seats filled quickly, making it a full house of families, friends and supporters alike. Dr. Gary Rhodes, Reynolds College President, offered the opening remarks in what will be his final graduation ceremony before retirement. Dr. Rhodes has been the face of our college, and his impact on Reynolds will be a lasting one. This year's graduates were treated to an uplifting speech from Richmond's own Mayor Levar Stoney. His inspirational address talked about the importance of the two ways to create opportunities in life, stating, "Some people get lucky. Some are born that way... But the two great levelers in this life are education and work... And getting a good education, and working hard, is how you create opportunity for yourself, and find a home for your passion." Among this year's graduating class, 24 students were members of the Honors Program. Five of the 24 Honors Program students graduated with the Honors Scholar designation, signifying that they completed 18 credit hours in Honors classes. This year, graduating Honors students will be enrolled in universities such as the University of Virginia, University of Richmond, College of William and Mary and the VCU Honors College to name a few. It was truly a day for celebration and joy. We wish all our Honors and Reynolds graduates the very best in their future endeavors. Congratulations Class of 2018!
---
Honors Graduate Luncheon

25 April, 2018— Honors faculty and administrators filled the Work Development and Conference Center gallery this Wednesday to congratulate the Honors graduates for their achievements. Hosted by Dr. Kimberly Britt (Vice President of Academic Affairs) and Dr. Bourne-Richardson (Honors Program Coordinator), administrators, donors, and faculty got a chance to mingle and give their best wishes to the 24 graduating Honors students. The event began with an opening statement from Reynolds' President Dr. Rhodes, congratulating the students on their success and accomplishments. After the lunch, Dr. Britt gave an inspiring speech on perseverance. She shared with the audience stories of successful individuals like Dr. Seuss and Albert Einstein, both who never gave up on their dreams even after failed attempts. She urged the graduating students to continue to work hard and accomplish their goals. Shortly after, Dr. Bourne-Richardson introduced three student speakers representing their fellow Honors students. She expressed her admiration for them and introduced their majors, prospective colleges and career aspirations. Meghan Clancy, Kofi Riddick and Joshua Briere individually took the podium and expressed their gratitude to Reynolds and the Honors Program. They shared their ambitions and how they developed belief in themselves inspired by the Honors Program and its faculty. Dr. Bourne-Richardson then gave the closing remarks and wished the graduating class her best. The students gathered for a few pictures to capture the moment and mingled with the faculty before returning to class. This years' Reynolds Honors Program graduates have been accepted at the University of Virginia, William & Mary, the University of Richmond, VCU Honors College, James Madison University, the University of Maryland, and George Mason Honors Program, to name just a few. Wish them well as they continue their exciting academic journeys!
---
Honors Community Workshop: Presenting and Speaking with Confidence by Prof. David Stern

7 Mar. 2018—Did you know that more Americans are afraid of public speaking than of dying? Data shows that public speaking is one of the most common fears across the population. For Honors students, the ability to communicate effectively is paramount. Recently, the Honors Program welcomed Professor David Stern to Honors Community Hour to talk about "Presenting and Speaking with Confidence." His discussion included information on how to best prepare for a presentation and avoid the common pitfall of stage fright. This topic was popular because oral presentations are a common requirement for both school and the workplace. However, students often say that they struggle to present confidently. Honors student Kofi Riddick inquired about methods for managing nervousness before and during a presentation. Professor Stern suggested three steps: "Practicing, trusting yourself, and knowing the material." Students in attendance unanimously found the topic relevant and fundamental. At the end of the presentation, students even mentioned interest in an Honors public speaking course.
---
VCU Honors College Visit

16 March 2018--This week, the VCU Honors College welcomed Reynolds Honors students for an informative afternoon and tour of the University. On a brisk Friday afternoon, nine students took the trip to the VCU campus and received a warm welcome from the Honors College. They were introduced to the friendly staff, including Dr. Meredith Sisson, director of the National Scholarship Office, and Catherine Harris, admissions counselor for students entering the Honors program. They gave students an overview of the application process and the mission of the Honors College. Students also met with representatives from Transfer Office and Financial Aid, who gave them practical guidance about the transfer process. After the presentations, a group of current VCU Honors students who transferred from different community colleges introduced themselves to us and discussed their experiences transitioning to VCU Honors. Amongst them were Jeremiah Meadows and Kate Klokova, both former Reynolds Honors students. Students found their perspectives and insights very helpful. They led students on a tour of notable buildings of the university that included the library, commons area, and the VCU gym. After the tour we gathered in front of the Honors building to capture the moment. Without doubt, Reynolds students were very well informed and left with a greater understanding of the VCU Honors College. Those who were interested in attending VCU agreed that it was crucial to have that information.
---
Honors Community Workshop: Asking for Letters of Recommendation
7 Mar. 2018--This semester, our Honors Community Hours have been filled with great information and presentations. So far, we've had informational workshops on the topics of: How to request a recommendation letter.
Our first workshop was conducted by Dr. Karen Layou. She shared with us the importance of how to go about asking a reference, usually a professor, for a recommendation letter. It was an engaging presentation that students found informative because it is a topic that's usually overlooked. There are specific ways to go about requesting a recommendation letter in order to get the best and timely result. Professor Layou, who regularly writes such letter for students, explained the level of detail and thought that goes into constructing a good letter. Information that students should be prepared to provide includes a checklist that rates a student's academic achievement, intellectual promise, motivation, leadership, and other skillsets. One student said, "This presentation helped me understand how to properly ask someone for a recommendation letter". Requesting a recommendation letter properly can be the difference between getting a well-written, favorable letter by the deadline, or getting a rushed, poorly written one.
---
Honors Student Advocates at NASA Aerospace Day Conference
28 Feb. 2018--Pictured here, Reynolds Honors student Ryan Lingo was invited to serve as a NASA Advocate at the annual Aerospace Day Conference held at the Richmond State Capitol during this month's General Assembly session.
As an advocate during the Aerospace Day Conference, Ryan had the opportunity to speak with delegates, senators, congressmen and others in attendance to demonstrate how NASA and the Virginia Space Grant Consortium (VSGC) have shaped his life and why these institutions are vital assets to the state.The conference is intended to show Virginia's state legislature how Aerospace is benefitting the state in multiple realms. Much of the day was spent speaking to delegates including House of Delegates member Lamont Bagby, college presidents, private space businesses and even Senator Lynwood Lewis. When asked about the value of the aerospace program for Virginians, and potentially students, he said, "Financially and educationally, it's a huge benefit. Virginia is seen as an aerospace upstart and from a business perspective, that's great."
This is not the first opportunity Ryan has sought out to expand his interest in space. Being a volunteer at the Science Museum for the past four years, he has lead exhibits and events there such as Space Night. His love for science, more specifically the study of outer space, steered him to the chance to work with NASA and the Virginia Space Grant Consortium. When asked why he chose to work with NASA, he answered that at the age of 15 his interested peaked when he got to know his mother's former boss who worked on NASA's Viking Program, which sent probes to explore Mars. Here at Reynolds, Ryan is pursuing a Business Administration degree.
---
Launchpad Workshop Fall 17
21 October 2017— Our bi-annual workshop series continued this past Saturday as Reynolds Honors students attended an academic workshop facilitated by Launchpad, the VCU School of Education Graduate student group. This year's workshop focused on transfer and students listened to presentations on Writing Successful College Essays, Finding Scholarships, Application Time Management, as well as a one-on-one Peer Mentoring session. Reynolds Honors student Meghan Clancy enjoyed the one-on-one sessions with LaunchPAD officer Holly Whittenburg, who provided guidance to hone in on what makes her story unique and ways in which she could emphasize her individual voice in her application essay. Another Honors student, Kofi Riddick, agreed that "the Launchpad Workshop was extremely informative and provided [me]with ample tools to assist in my journey" as he looks to transfer to a four-year university. Kofi also thought that the graduate students were helpful and brought many aspects of the transfer process to his attention. The collaboration with LaunchPAD has been a successful venture, and the graduate students hope to expand workshop times and offerings in the coming semesters.
---
2017 VCHC Fall Conference
Reynolds Honors students attended Virginias Collegiate Honors Council Fall Conference this past weekend at Virginia Tech on October 13th -14th. Current Honors students Kofi Riddick, Meghan Clancy, Madeleine Kerns, Na Le, and Grace Swal talked with faculty from the Virginia Tech Honors College, took a tour of the campus and helped plan 2018 VCHC Spring Conference, which will be part of the larger Southern Regional Honors Council conference being held at Northern Virginia Community College in Spring 2018. The students also connected with former Reynolds Honors student, Alexander Nwogu, who is now pursuing his Bachelor's degree in Mechanical Engineering at Virginia Tech. He spoke to the students about his experience on his first semester and his transition transferring to Tech. The conference brought together faculty and students from Honors programs across the state, including VCU, Virginia Weslyan, Radford, and Old Dominion University.
---
Honors Orientation Meet & Greet Event Kicks off Fall Semester
15 August 2017—The Honors Program held its Fall Orientation Meet and Greet Event on Tuesday. This semester, the program welcomes 32 new Honors students, for a total of 71 students. Dr. Ashley Bourne-Richardson welcomed attendees, along with President Dr. Gary Rhodes, who recognized Honors students as academic leaders at Reynolds. Scholarship Manager Nichole Page overviewed scholarship opportunities that the Reynolds Honors Program provides. She also mentioned the Annual Scholarship luncheon hosted this spring and encouraged scholarship recipients for opportunity for a meet-and-greet with donors. Attendees also heard from Honors Student Representative Donald Cooper, who spoke on behalf of the Honors Student Group and encouraged new students to join this initiative. Finally, new students had the opportunity to talk with current Honors students and faculty during the "Q and A" session. Honors students Jeremiah Meadows, Meghan Clancy, and Donald Cooper answered questions and gave advice, along with multiple Honors faculty members. Other highlights included confirmation that the Guaranteed Admission agreement between Reynolds and James Madison University has officially been approved. For interested students, the 2017 VCHC Fall Conference will be held on October 13 – 14 at Virginia Tech, Blacksburg, VA. And new this year, the Reynolds Honors Book Share (Facebook Page) for students who have completed an Honors course and want to share your books, or if you're taking an Honors class and need books, sharing can now be coordinated through this page. Looking forward to a great semester with our new and returning Honors students.
Reynolds Honors Students Attend VCHC Spring Conference

10 April 2017--Four Reynolds Honors students attended the annual Virginias Collegiate Honors Council Spring Conference this past weekend, held at Old Dominion University on April 7-8. This year's conference theme was "Adventures in Honors" and, fittingly, the opening sessions on Friday were held at the Virginia Zoological Gardens, which provided a great setting for the student service learning project that created enrichment items for zoo animals.
The conference featured multiple panels of student presentations from Honors students across the state from both four year and two year institutions. Students Meghan Clancy, Sierra Peterson, Joshua Briere, and Jeremiah Meadows were able to attend multiple panels featuring traditional student paper presentations, as well as poster presentations and artistic performances by students. Meadows, a first semester Honors student, was selected to present his paper "Personhood for Sentient Non-Human Animals and Sentient Artificial Intelligences: A Demonstrative Argument" at the conference, and won one of just five awards in the category of Best Academic Presentation, out of 55 total students, mostly from four year institutions. He received a certificate of recognition and a cash award of $200. Honors students are encouraged to attend this conference as a way to learn about professional academic conferences, as well as make connections with Honors faculty and students from other Virginia institutions.
VCHC student award winners with President Daniel Roberts. Jeremiah Meadows appears seventh from left.
VCU Graduate Student Group Holds Academic Workshop at Reynolds
25 March 2017--The partnership between the Reynolds Honors Program and LaunchPAD, a VCU graduate student group, continued this past Saturday with a well-attended academic workshop featuring presentations from several graduate students in VCU's School of Education. VCU graduate students planned and delivered sessions on Academic Writing, Life Balance, and a small group tutorial session. LaunchPAD's mission is to help doctoral students advance their academic skills in publishing and pedagogy, and the emerging partnership with Reynolds allows graduate students to practice their teaching skills as well as helping introduce undergraduates to academic discourse and practice. In attendance along with students from the Honors Program, were members of PTK, and Reynolds Student Ambassadors and LEADS. Reynolds Honors student Rahel Solomon appreciated the one-on-one sessions because she "was able to ask about and learn from the personal experience of [doctoral student Michael Schad]." Another Honors student, Donald Cooper, "liked hearing about how my undergraduate work could transition into graduate studies." Cooper also enjoyed the tutoring session, in which he was able to talk with graduate students about the focus of an upcoming project. LaunchPAD organizers Amanda Hall and Holly Wittenberg were enthusiastic about the potential for continuing these events, citing the mutual benefits for both VCU and Reynolds students.
---
Richard S. Reynolds Foundation Announces Major Gift for Honors Endowment
2 March 2017--The Honors Program at Reynolds hosted a successful showcase event on Wednesday evening, featuring faculty-students teams discussing current Honors projects with members of the College and Foundation boards, as well as many major college benefactors. The highlight of the evening was the announcement of a major gift from the Richard S. Reynolds Foundation which will start an endowment for the Honors Program to support the scholarship funding our Honors students receive. Richard "Major" Reynolds and Dorothy Reynolds Brotherton, brother and cousin, respectively, of the college's namesake, J. Sargeant Reynolds, were on hand Wednesday night to announce the gift as trustees of the foundation. Faculty attending included Professor Karen Layou (Geology) with Honors student Jordan Bock, Professor Gayle D;Andrea (Sociology) with Honors student Jeremiah Meadows, and Professor Travis Anthony (Biology) with Honors student Kinga Dankowska.
---