The School of Business and Industrial Trades is home to an eclectic array of programs designed to prepare students for high demand careers in a variety of industries and offer educational pathways to a four-year college or university. We desire to support students through completion and post-graduation success as they gain specific occupational and technical work-based learning skills for immediate employment.
HERE'S WHAT YOU NEED TO KNOW!
Our School (School of Business & Industrial Trades - SBIT)
Overview - We provide day, evening and online classes in accounting, Loading..., Loading..., economics, culinary and hospitality, paralegal studies, Loading..., Loading... and Loading... technology, and Loading.... Most of our certificates and degrees represent guided pathways of learning. Career studies certificates are the foundation of the pathways, and they provide for immediate employability in as soon as one semester. Students may elect to continue and earn certificates and degrees to further advance their career prospects.
Program Highlight - Business: Beverly Davis

Let's give a round of applause to our very own, Beverly Davis, who was honored for her accomplishments at the Ruth Coles Harris Annual Leadership Luncheon on Saturday! I am sure, as many of you know, Beverly has a huge heart, and the knowledge and experience to match. Her unwavering 47-year commitment to our Reynolds students and community is unmatched and deeply appreciated.
Please, join us in celebrating Beverly Davis for this distinguished award and as a Reynolds Community Hero!
Quote from Dr. Dwyer, Interim Vice President of Academic Affairs:

We have truly fantastic adjunct faculty. Case in point…Sara Skeens! Sara teaches in our paralegal program and is the recent winner of Relativity's Academic Innovator of the Year Award! This is a distinct honor provided by Relativity, a global leader in compliance technology that provides advanced AI capabilities to government and private sector legal entities around the world, including but not limited to the United States Department of Justice, top law firms, and Fortune 100 companies. Sara recently created a nation-wide Legal Tech Educators Virtual Community so that other post-secondary education leaders around the globe can share innovation, technology and support for the classroom. Sara is currently an ACUE participant and is beginning her 2nd year with us here at Reynolds as adjunct faculty. As program head Melissa Brooks says, "There is no other program in the entire state (perhaps even throughout the country) that is doing what we're doing in terms of 21st century paralegal education and Sara is one reason why.

Congrats, Sara! We are grateful to have you on the Reynolds team.

And, thank you Melissa Brooks, Paralegal Program Head, for recruiting such strong adjunct faculty to Reynolds. They - and you - make all the difference!
Our Community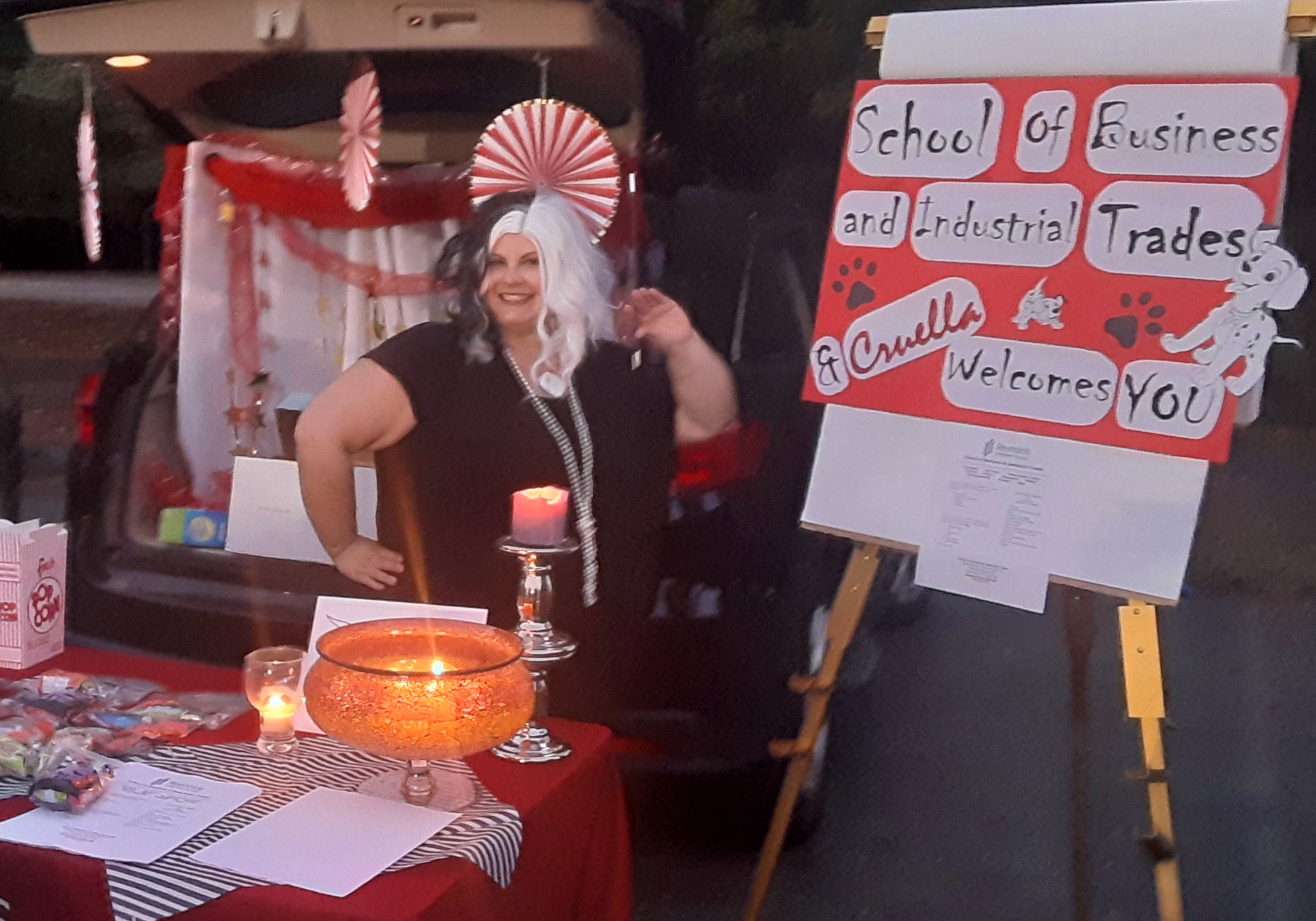 Reynolds Trunk or Treat with SBIT
"That was a great event and I handed out over 150 bags of candy. I had some great conversations about the various programs that the SBIT offers! I hope the Fall Festival becomes a new tradition at Reynolds." - Accounting Professor and Program Head, Sheila Betz
The Kitchens at Reynolds - the primary source for instruction, training, continuing education and staffing for the region's hospitality, culinary and tourism industries. The Kitchens, as it is commonly referred to, has hosted several with local businesses to inspire greatness in the Greater Richmond area including:
Boys and Girls Club of Metro Richmond (

Video

)

Truist (

Picture

)

Virginia Restaurant, Lodging, and Travel Association which held their quarterly meeting with special guest, Senator Joe Morrisey (Picture)
Automotive Technology - The school is also home to the nation's first distance-based Advanced Electric Drive Vehicle Career Studies Certificate program. Students completing this program can service electric vehicles, plug-in hybrid electric vehicles, and fuel cell electric vehicles-sophisticated, complex systems that provide for increased energy efficiency and employ "green" technologies. Check out Automotive in the community!
Dr. Alan Crouch and Toyota employers are seen speaking to students in Chesterfield County Public School (CCPS) Technical Center's Automotive Technology program about finding their passion and letting it lead them to a career. "I found my automotive career early. I've loved it, gone up the ladder, and done everything I wanted - achieved my dream! Now I get a chance to teach at the community college and give what I learned back to my students, and that's what I do best!"

Reynolds Automotive program is bringing job opportunities and industry professionals like Firestone/Bridgestone to the students at Goochland Campus.