Alumni Profile
Student Success
Meet Khalil Watson
Alumni Profile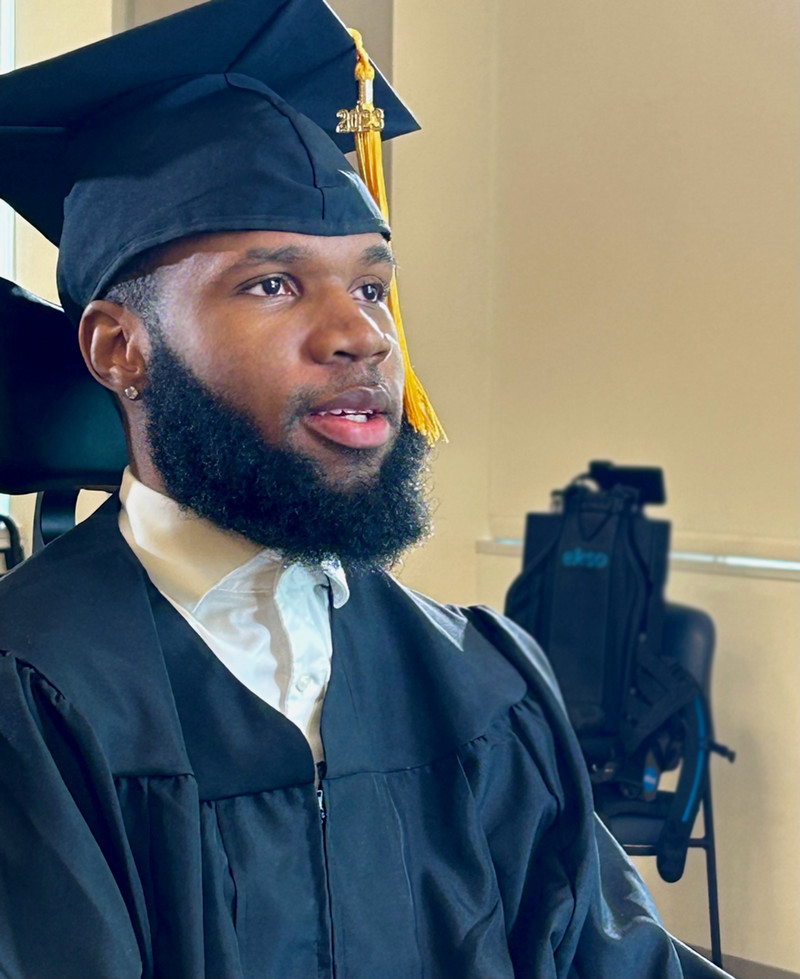 This soft-spoken young man has a vision. His hope is to one day reach others who are in a situation like his own. He wants to make a difference in the world. He wants to encourage others who are faced with great challenges similar to his. And he wants to give them hope.
Everyone responds to tragedy differently. Some give up while others astound us with their strength and tenacity. Khalil Watson is one of the latter.

On May 26, 2016, about two weeks before his high school graduation, Khalil was shot in the neck during a robbery. He was rendered paralyzed from the neck down. He did not attend his prom or graduation.

The catastrophic spinal cord injury resulted in three months in the hospital and years of retraining his body to do the things we all take for granted, like breathing, eating, and speaking.

He spent countless time working with therapists at Sheltering Arms Institute in physical therapy which can be grueling. It's not easy work recovering from an injury of this type.

Despite all that, through the encouragement of social workers, therapists, and family, Khalil has completed his Pre-Social Work studies and has graduated from Reynolds with an associate's degree. But you may have heard about that…
Khalil made international news with viral videos streaming all over social media. He not only graduated live and in person, this time, but seven years after the event that changed the course of his life, Khalil walked across the stage to receive his diploma.

Yes. He. Walked.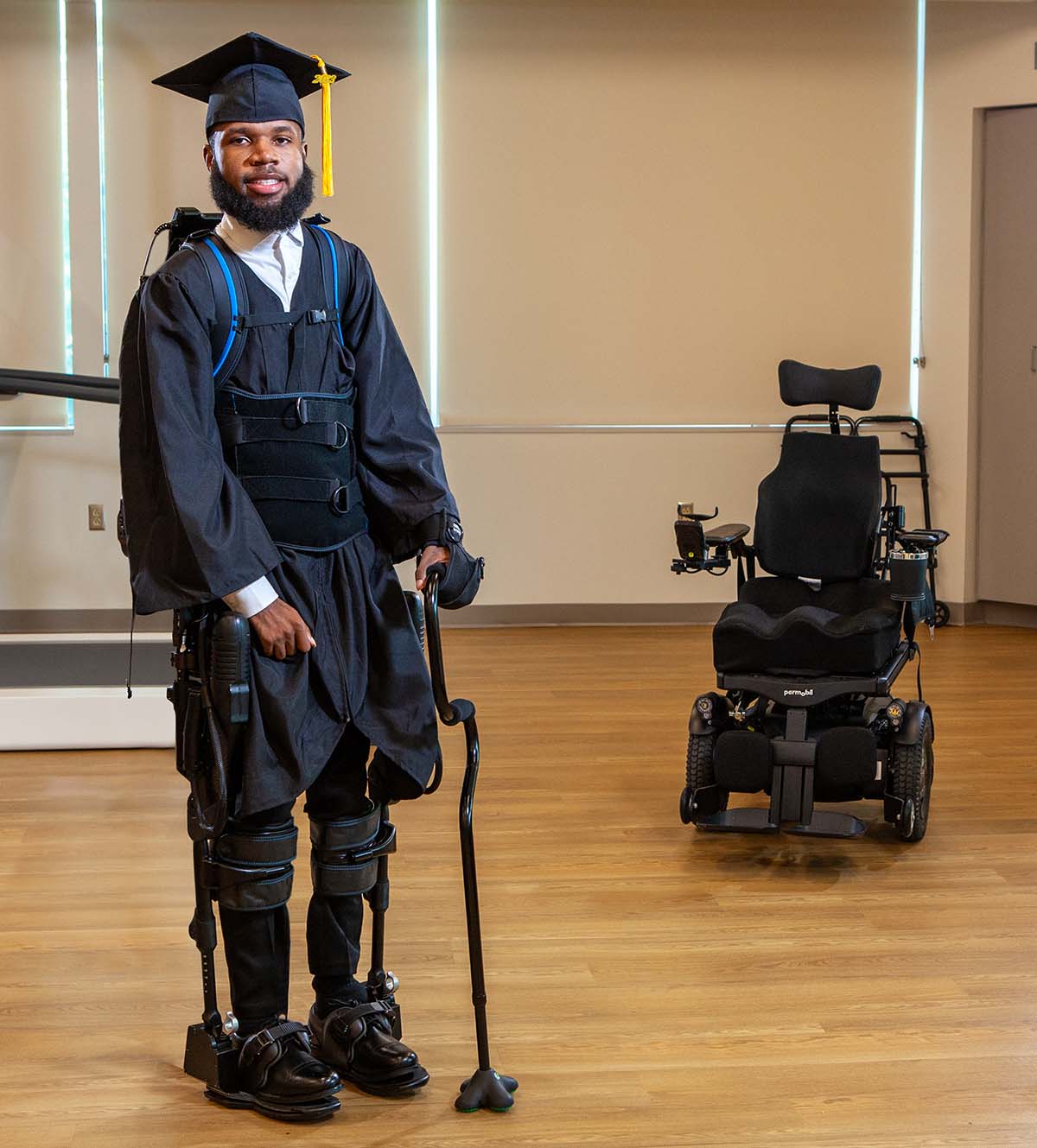 Khalil was able to accomplish the walking part through the use of a robotic exoskeleton, which is part of what garnered all of the attention. And that is truly incredible.

But what is also amazing is his personal resilience and being able to get through college courses despite the multiple challenges that his injury brought. He credits the many loving people in his life — family, friends, social workers, and therapists, who gave him the thing most needed — hope.

But hope alone is not always enough. Turning hope into action is what Khalil did on his own. He enrolled and attended school facing these many challenges, including the COVID pandemic.

He put in the hours and completed the courses with time dedicated to studying and working hard. He was willing to make sacrifices to make it all happen. With a positive attitude and a belief in possibilities, Khalil did it.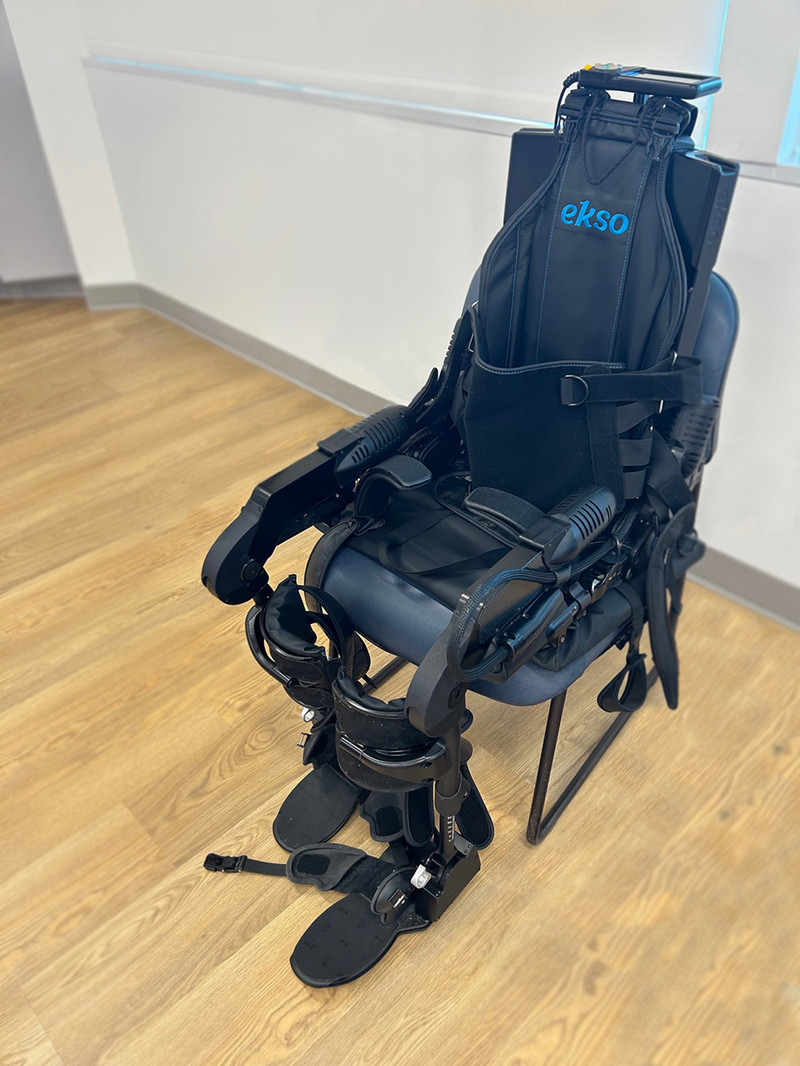 It wasn't an easy task, by any means, but with his support system, and the team around him, he got through. Not able to single out one specific instructor or counselor, he credits the many people at Reynolds for his success here.

Khalil will attend VCU in the fall, as he pursues his undergraduate degree in social work. He wants to give back by reaching out and supporting others in circumstances similar to his own.

"I always wanted to change the world," he said. With his new celebrity status from the publicity of his graduation feat, he may do just that. He now has the platform to give hope to others.

"Going through the things that I've experienced, I feel like I'd be able to easily connect with and understand individuals who have similar or worse situations than mine," he said.

To bring about the success he's had and the achievements that are before him, Khalil continues to act on hope and support that will bring about real, quantifiable progress. His mission has already reached millions through the viral graduation video. There is no doubt that with his positive attitude, drive, and fortitude, Khalil will be realizing his dream in the coming years.