From Tinkerer to Engineer, Reynolds Alum Bridges Passion and Career
Celebrating Cybersecurity Awareness Week
Matt Sakach is an accomplished graduate of Reynolds Community College, holding an Associate of Applied Science degree in Information Systems Technology. With his insatiable curiosity about technology, and a lifelong fascination with understanding how things work, Matt's journey from a childhood tinkerer to an IT Engineer at SimpliSafe showcases the power of passion and education in shaping one's career.

From a young age, Matt's inquisitive nature set him on a path of exploration. He would dismantle various gadgets, constantly seeking to discover the intricate workings behind them. This love for tinkering naturally evolved into a passion for technology, and he began building computers during his teenage years. As he matured into adulthood, it became evident that a career in IT was the ideal way to bridge his innate skills and pursue a profession he loved.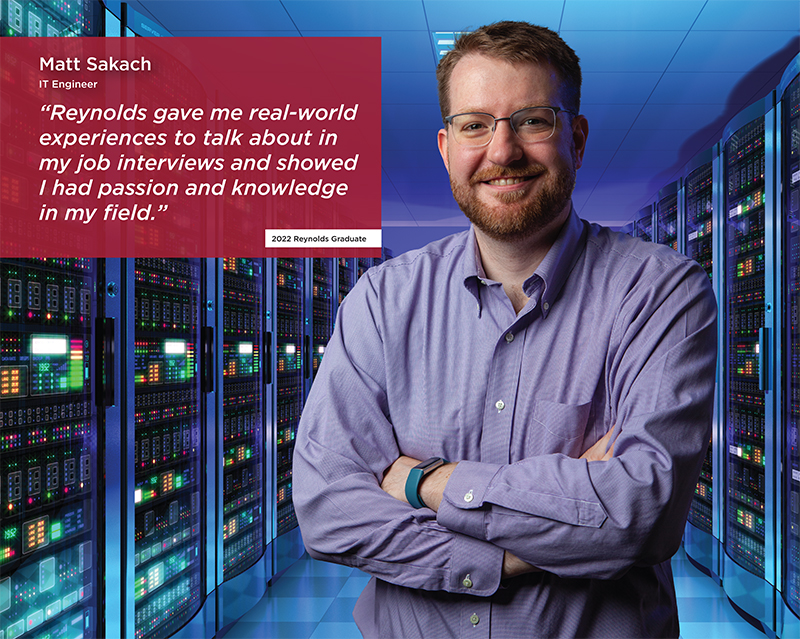 With this newfound ambition, Matt embarked on a journey to acquire the knowledge and skills needed for a successful career in the world of Information Technology. Reynolds played a pivotal role in helping him realize this dream. The Information Systems Technology program at Reynolds provided him with a solid foundation and introduced him to higher-level topics such as networking and Active Directory (AD) - a database and set of services connecting users to network resources. The instructors at Reynolds went above and beyond to break down complex concepts into simpler terms, fostering open discussions and providing a deeper understanding of IT-related subjects, particularly networks and cybersecurity.
One of the most invaluable aspects of Matt's educational experience at Reynolds was the opportunity to interact with classmates and instructors in a college setting. This environment allowed him to engage in meaningful conversations, network with like-minded individuals, build strong relationships, and form lifelong resources with friends and colleagues who shared his passion for technology. This collaborative and supportive network of peers and mentors proved to be instrumental in Matt's growth and success.

Fast forward to today, Matt is a seasoned IT Engineer at SimpliSafe, a prominent company specializing in home security systems. With over seven years of experience in information technology operations, he has honed his expertise in various domains, including network management, systems administration, cybersecurity training and response, audio-visual and teleconferencing solutions, and providing help desk support for applications and hardware. His journey from a childhood fascination with technology to becoming an integral part of a leading home security solutions provider is a testament to the profound impact of education and the pursuit of one's passions.

Matt's story serves as an inspiration for aspiring IT professionals and demonstrates how a combination of curiosity, dedication, and the right educational foundation can lead to a fulfilling and successful career. His journey highlights the significance of Reynolds nurturing and shaping the future of individuals with a deep-seated passion for technology. With his exceptional background and a promising career at SimpliSafe, Matt embodies the spirit of lifelong learning and the endless possibilities that the field of Information Technology has to offer.

If you have a passion for technology and are interested in a career in IT, find out more about the Information Systems Technology program at Reynolds.