Boynton presents at SAIR Conference
Recently, Melanie Boynton, Director of Institutional Research and Analytics at Reynolds Community College, presented Data Analytics and Visualization talk tracks at the 50th Annual Southern Association for Institutional Research (SAIR) Conference. The event was held in October in Point Clear, AL.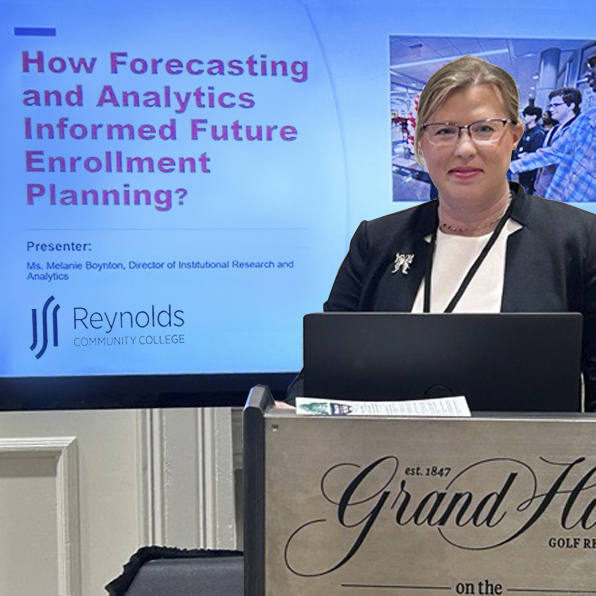 This conference serves as a platform for the exchange of information and ideas related to institutional research in the field of post-secondary education. Its primary objectives include advancing research to enhance the understanding, planning, and operation of educational institutions, promoting the professional development of those involved in institutional research, and fostering unity and cooperation among individuals engaged in research-related activities.
This year's theme was "Branching into the Future." Boynton presented two talk tracks, "How Forecasting and Analytics Informed Future Enrollment Planning" and "Using Analytics to Understand and Address Equity Gaps."
How Forecasting and Analytics Informed Future Enrollment Planning
Enrollment planning is crucial for colleges to effectively manage their limited resources. To achieve this, Boynton says, Reynolds has embraced a combination of art and science in the form of enrollment planning, which involves a robust data and analytics strategy. This strategy enables colleges to accurately forecast future enrollment trends. By employing comprehensive data and analytics, institutions can make informed decisions to stabilize declining enrollment while also improving access for underrepresented students. This approach is essential for setting and achieving realistic enrollment goals.
Using Analytics to Understand and Address Equity Gaps
In light of the growing demand for racial justice and social mobility, colleges have been prompted to reevaluate equity gaps within their institutions and take on a role as catalysts for socio-economic mobility in their communities. Boynton relates that data visualizations have become crucial tools for colleges to assess equity gaps and the impact of policy changes. Reynolds, in this context, crafted dashboards that analyze how students from different racial, gender, and socioeconomic backgrounds perform in Early Momentum Metrics. These metrics are fundamental for understanding and closing equity gaps, enabling colleges to identify areas where intervention is needed to promote greater equity.
The Science of the Forecasting Tool
Boynton drives home the fact that analytics provide good data that is safe and trustworthy — no "thin air numbers." She says the forecasting model can offer projections for specific groups such as new versus returning students. It also offers the ability to gain other intelligence about programs and external factors that might influence them. This creates a balance of historical trends, current realities, and stretch goals. They all work together to provide co-ownership to academic units, admissions, and support services.
Forecasting and analytics tools speed up processes that would take countless hours of work, stresses Boynton. The data allows one to see nuances including those moving through the student lifecycle. The tools give leadership the ability to disaggregate the data and consider other factors at play.
Benefits include the ability to give stakeholders clear, specific goals, supported by solid data. The stakeholders can then easily determine if we, and they, are winning or losing. Boynton has put these analytic tools to good use, revealing that Reynolds exceeded the latest enrollment goal by 4%.
The SAIR Conference facilitates discussions and sharing of best practices in institutional research, including Boynton's topics on enrollment planning informed by data and analytics and addressing equity gaps through data-driven approaches. These efforts align with the broader goals Reynolds embraces of advancing education and promoting social justice.