Alumni
General Information
Reynolds Community College Educational Foundation, Inc.
Parham Road Campus
Workforce Development & Conference Center, Suite 200
P.O. Box 26924
Richmond, VA 23261-6924
(804) 523-5181
(804) 523-5107 fax
Office Hours:
8 a.m. to 5 p.m. M-F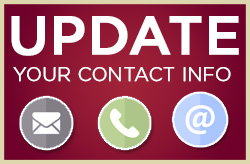 Learn about the latest Reynolds news as well as Alumni programs and benefits by following us on LinkedIn, Facebook and Twitter.
---
Upcoming Events


Reynolds is celebrating its 50th Anniversary this year!  Check out the 50th Anniversary page at www.reynolds.edu/50 for the latest on events and activites and other ways you can engage with the celebration!