The Media Center at Reynolds includes
the Communications Office and the Marketing Office
The Communications Office is a strategic partner for many different programs, people and organizations inside and outside the college. It serves many constituencies in such as Media Relations, Internal Communications, Special Events, Interactive Communications, Legislative Affairs, and Community Engagement. Contact the Communications Office at (804) 523-5200 or jschilling@reynolds.edu.
The Marketing Office handles web design and development, publications and printing, paid advertising, graphic design, strategic marketing and brand management. We're also pretty fun. Contact the Marketing Office at (804) 523-5231 or marketing@reynolds.edu.
Top News
Melanie Boynton Chosen as
University Technology Leader of the Year

Melanie "Mel" Boynton, Reynolds Director of Enterprise Systems and Data Intelligence, was recognized for her outstanding work providing data insights to Reynolds leadership to support student outcomes. By gathering data across campuses and creating dashboards illustrating behavioral trends, Mel gave administrators valuable analytical tools to guide future decision-making.
Richmond-Petersburg Alliance Awarded $52.9 Million
In September, the Alliance for Building Better Medicine – of which CCWA and Reynolds are among the Alliance partners in the Richmond and Petersburg area – was awarded $52.9 million as part of a Build Back Better Regional Challenge Grant. The Richmond-Petersburg Alliance was one of 21 proposals chosen out of 500 regions to receive the funding. The challenge was funded by the federal American Rescue Plan.
Learn more on the Alliance website.
Reynolds joins the Achieving the Dream (ATD) Network
Reynolds is joining the 2022 cohort of Achieving the Dream (ATD) Network to holistically advance equity, access, and student success.
By joining the ATD Network, Reynolds is committing to a tailored engagement in whole-college transformation and gaining access to a nationwide network of peer support and expertise.
US Secretary of Education visits Reynolds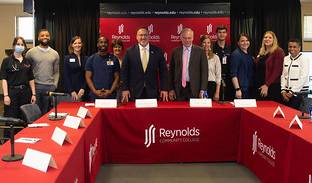 In honor of Teacher Appreciation Week, U.S. Secretary of Education Miguel Cardona travelled to Richmond on Monday, May 2 with U.S. Sen. Tim Kaine to speak with students enrolled in career and technical education (CTE) programs, and teacher pipeline programs in high school and community college.
Secretary Cardona toured Reynolds Downtown Campus and hosted a roundtable discussion on career and technical education with Senator Kaine and students and staff.
Watch a video of the roundtable discussion.
Read the Henrico Citizen article about the Secretary's visit.
View photos taken at the event.
---
The Kitchens at Reynolds Recognized for its Architecture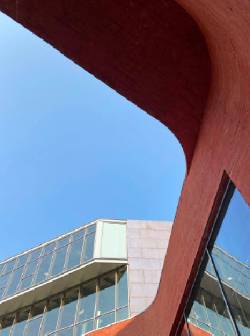 This article featuring The Kitchens at Reynolds appeared in the Architect's Newsletter
on March 30, 2022.
Read the article to learn more about Steven Holl Architects and other buildings they have designed in the Richmond area.
Buddy Award Goes to Financial Aid Staff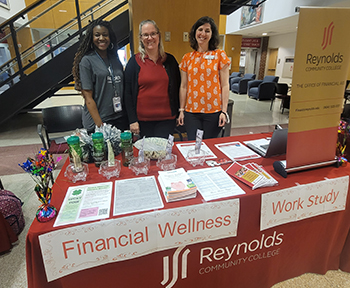 Congratulations to Meredith Kane, Jennifer Gandy-Franklin, and Amber Harper for applying for, and receiving, a "Buddy Award". Here's what it's all about . . .
From Jennifer Gandy-Franklin:
Every year, the Virginia Association of Student Financial Aid Administrators sends out an appeal for the VASFAA Buddy Award. The purpose of the VASFAA Buddy Award is to promote the professional development, preparation and effectiveness of the members of VASFAA through programs of training, community service, and other activities in keeping with the purpose of VASFAA.
Our proposal requesting funding for a 2023-2024 FAFSA/VASA Kickoff Event was approved. We will be hosting the kickoff this upcoming Fall, where we will assist students with completing the FAFSA/VASA and scholarship application. Students also will have opportunities to play games and win prizes. Refreshments will be available.
Reynolds Partners with Toyota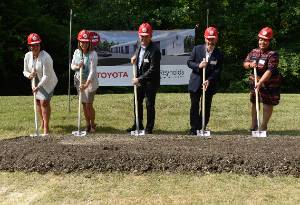 The world feels like its turning again. Big changes are coming and good things are happening. Reynolds' partnerships, like the latest one with Toyota, offer outstanding opportunities for students and for the Richmond community.
When news of Reynolds partnership with Toyota was released, car dealerships across the Commonwealth were calling to find out how they could get involved. They offered their congratulations, along with scholarships and internships. This is good for all.
A ceremonial Groundbreaking and Car Starting was held on the Reynolds Parham Road campus on Thursday, July 22, 2021. Toyota representatives and dealers, community members, Reynolds board members, and faulty all came together to celebrate the news.
From the Henrico Citizen
Toyota Motors North America (TMNA) recently selected Reynolds as an educational partner for its Toyota T-TEN (Technician Training and Education Network) program. As part of that joint effort, Reynolds will construct a new facility on its Parham Road Campus and relocate all automotive classes to the new space. The cohort-based program will be offered beginning in the fall of 2022.
Bank of America Grants $100,000 to The Kitchens at Reynolds to Help Bolster Social and Economic Mobility in Richmond's East End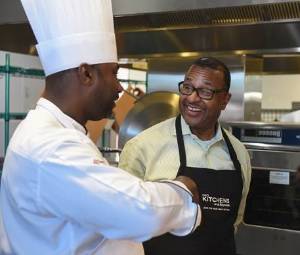 RICHMOND, Va. (July 27, 2021) - Bank of America today announced a $100,000 grant made to The Kitchens at Reynolds, located at 25th and Nine Mile Road in Richmond's East End. The grant will allow the college to provide job training in culinary arts and connects the community with the full array of academic and workforce programs offered by the college. The investment focuses on changing outcomes for residents in one of the most needed areas of the city. (Photo: Victor Branch with a student at The Kitchens at Reynolds.)
"The Kitchens at Reynolds is about so much more than a new facility, as impressive as it is," said Victor Branch, President of Bank of America Richmond. "We're impassioned about helping Reynolds lower the barriers to workforce training and higher education that have hampered East End neighborhoods too long. The training and education this grant will help Reynolds provide are foundational to jobs that pay well and help families not just get by, but plan and save for the future."
How important are community college transfer agreements?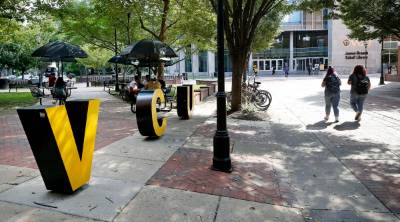 Great question. A great answer came in an editorial that appeared in
The Richmond Times-Dispatch
on Wednesday, June 30.
Reynolds President Paula Pando and VCU President Michael Rao teamed up to help readers grasp the critical role community colleges and transfer opportunities play in the life and health of our community, and its rebuilding in the aftermath of the pandemic.
From the RTD
The pandemic forced our colleges - a community college and a four-year research university - to face a new reality. In just a few weeks, we switched to delivering nearly all classes and services virtually, while starting virus prevention and mitigation protocols and building new supports for our most vulnerable students.