Employee Profile: Carlos Savory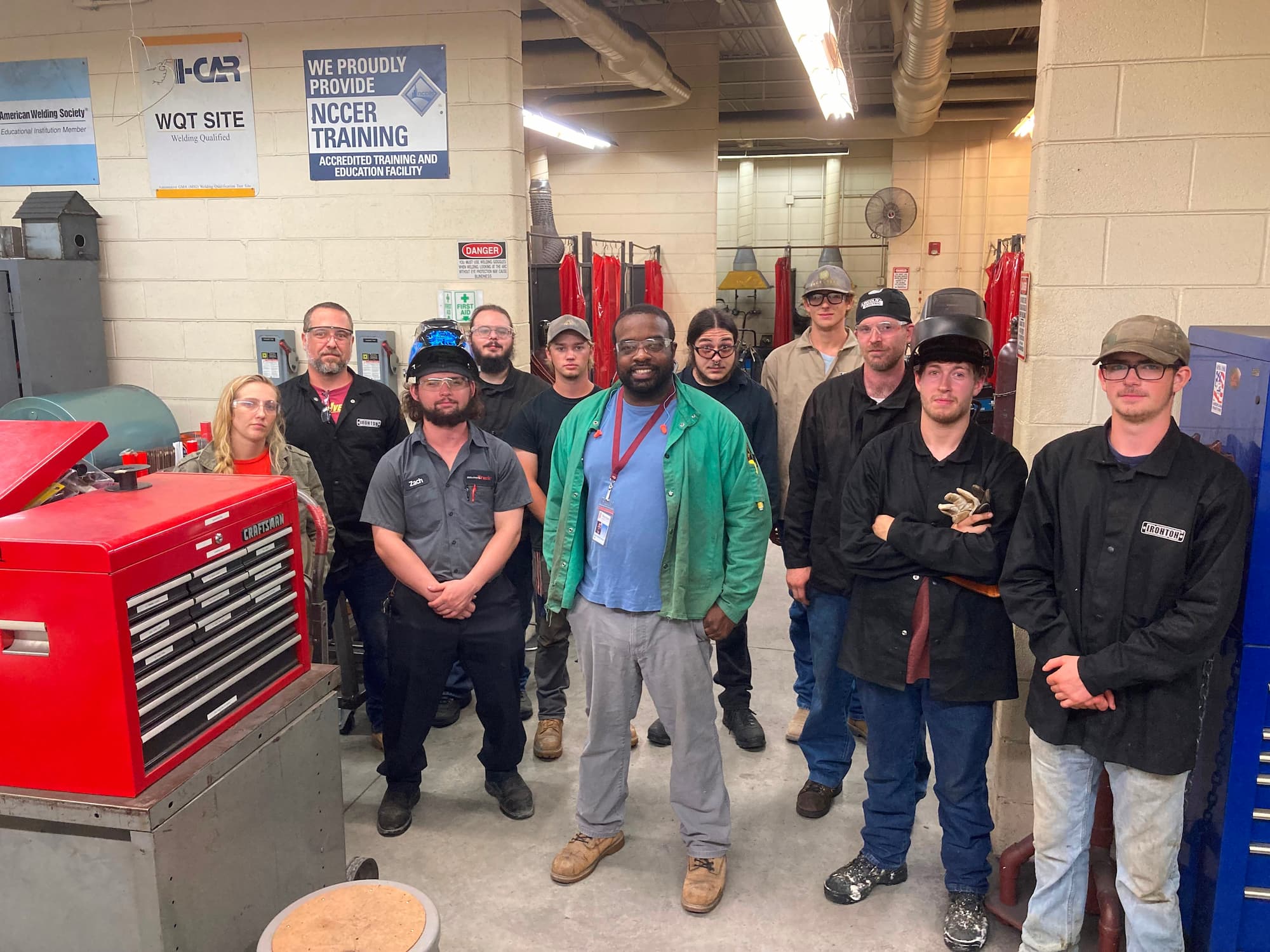 Where did you grow up and what was it like? 
My hometown is Williamsburg, Virginia. It's a small town with great people and a wonderful place to grow up.  
What were you doing before coming to Reynolds? 
Before I came to Reynolds, I was working in the welding industry at a company called Custom Ornamental Iron where I was a fabricator/welder.  
What got you interested in welding, and in teaching for Reynolds? 
Originally it was a football teammate in high school that told me about welding and the tech program that was offered at my school. After the first day of welding I was hooked. 
I found out about the teaching position at Reynolds in 2020 during the pandemic. Welding instructor jobs are usually rare and hard to find so I took the opportunity and I have enjoyed teaching ever since.  
What is the most rewarding part of your work? The most challenging? 
I would say the most rewarding part is taking a student that is having a tough time welding in the lab and finding different ways to teach them that works for them. It is very rewarding to finally see the smile on their face once they have made an excellent weld. The most challenging are the work hours. During the day I teach welding at a local high school. At night I teach at Reynolds. Long hours, but very rewarding work.  
What is your favorite movie, TV series, or book? And, why? 
My favorite movie would have to be Jurassic Park. I have always loved dinosaurs as a kid and that has never changed. 
I can't really say I have a favorite TV series. I am often too busy to sit and watch TV, but I do enjoy looking at random videos on YouTube. 
My favorite book is called "All Blood Runs Red" by Phil Keith. It's a true story about a man name Eugene that escapes oppression in American during the 1900's and becomes the first African American fighter pilot during World War 1. 
What are your hobbies, or interests outside of work? 
I enjoy going to the gym and spending time with my family.  
If you won $100 million in the lottery, what would you do with the money? 
I wouldn't do anything exciting with it. I would save most of it, invest some of it into the stock market and buy investment properties, possibly start a construction company. I would mainly use it to ensure a good future for generations to come.