Reynolds Employee Profile
Employee Profile: Rhonda Crosby / Scholarship Manager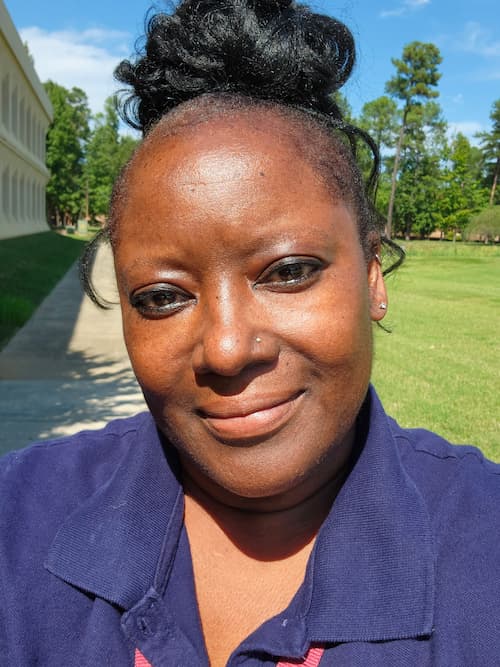 Where did you grow up and what was it like?
I was born in Hampton, VA, but lived most of my school years in Newport News and York County area. I was in the band and played softball so busy but simple. We had, and still have, a lot of family gatherings and events, so very family orientated.
What were you doing before coming to Reynolds?
I was unemployed from a layoff in February 2020 which I was fortunate to be home during the start of the pandemic to be home with my son for virtual school. Then I started a part time job when my son went to school at Henrico Recreation and Parks.
What got you interested in working with Scholarships and students?
The stability. To work for a college where I saw as a big need in a community. I wanted to be able to reach out to students and this was a start by helping them achieve their goals and dreams.
What is the most challenging part of your work? The most rewarding?
The most challenging part is not knowing every answer to every solution. The most rewarding part is Giving Away Money!!!
What is your favorite book, movie, or TV show? Why?
Sooo I am not a reader, but I do love all of the Rocky movies (up to Rocky V) and Beverly Hills Cop III, Big Brother and The First 48. Why? The acting for the movies and famous lines. Big Brother seeing the reality of different types of people living together and how they interact. Crime because it shows real time events of how people are caught and seeing the families' emotions and heartbreak which reminds me to not take life for granted.
What is your favorite restaurant?
I really do not have one or go out that often to choose.
If you won $100 million dollars in the lottery, what would you do with the money?
THANK GOD!!! Pay off parents' and my debts and buy them a new vehicle. Save for college for my son and grandkids. Buy a large piece of property to live peacefully.